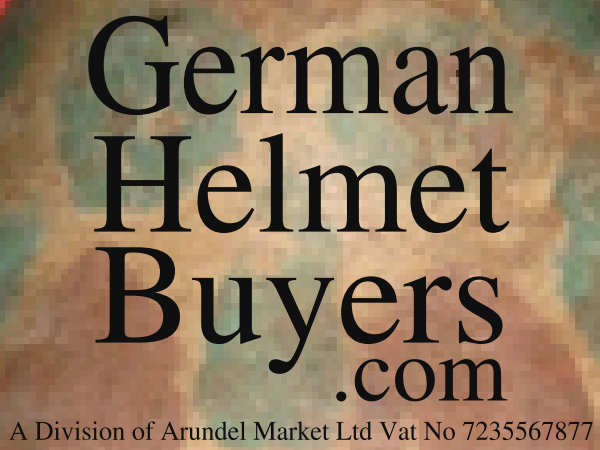 Contact Us


Thank you for visiting our specialist German Helmet buying website.

If you wish to sell a WW2 German Helmet or any other artefact please contact us by email davidmatteybuyer@gmail.com or by telephone +447860747027

We are constantly scouring the marketplace in search of authentic WW1 and WW2 souvenirs'. Recommendation to others by our customers is pivotal to our continued success.

Please spread the word if we have made better offers than you have obtained elsewhere.

Our reputation for buying is known within both the U.S.A. and European collecting community.

We warmly welcome inquiries from private individuals who have inherited any number of items.
We look forward to hearing from you all, and answering any questions you may have.
German Helmet Buyers.com
occupies prime high street shop front premiss
beside Arundel Castle in West Sussex U.K.
. The store is open seven days per week
and provides an old style service
for collectors.

Most of the stock is obtained directly
from veterans' families in the USA,
German Heer (army) helmets,
German Luftwaffe (air force) helmets,
Luftschutz helmets (air raid wardens)
and SS Helmets.
. German Helmets are prized iconic trophies  for museums and collectors to showcase. Many different helmet styles were produced  and worn in both ww1 and WW2, such as the popular  m16.m17 or later the M42 raw edge which was the last wartime upgrade to the standard helmet in 1942, Many collectors choose to focus only on collecting helmets! Caution should be taken when considering a German Helmet for purchase since there are a great deal of reproductions on the market today, some using original helmets, but reproduction decals and paint. Everly from the families of veteray helmet offered by us to our investors is rigorously vetted which is a formality given that we by directns.
this ensures
a high standard of authenticity and
condition.
Perhaps it is time to have your collection
or single item evaluated?
Best Regards
David Mattey
David Mattey has conducted business from the premises for the
last fifteen years. David Mattey chairs a panel of the
region's experts who are able to provide
a detailed assessment of your German
Daggers And other historic military
souvenirs.

Additional Information.
The task of evaluating a WW2 German Helmet is made easier when presented with several images.
Our clients include museums and corporate investors.
We frequently outbid other websites by a sizable margin.
Our Address:
GHB.COM
Arundel Antiques Market Ltd
The Passageway
18 High Street
Arundel
BN18 9AB
Telephone
0044 (0) 1903-884602
Mobile
0044 (0) 7860-747027
VAT Registration Number
723556787
Email: 
enquiries@germanhelmetbuyers.com